2020 - Cinderella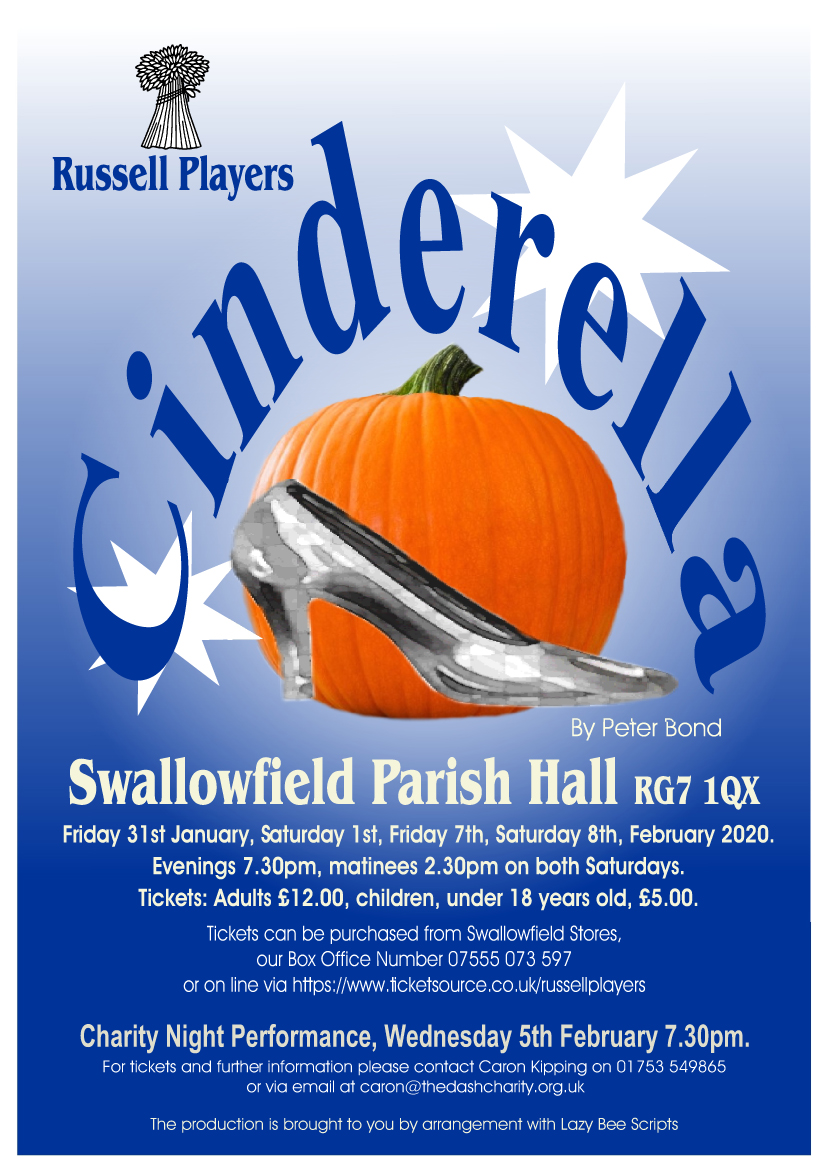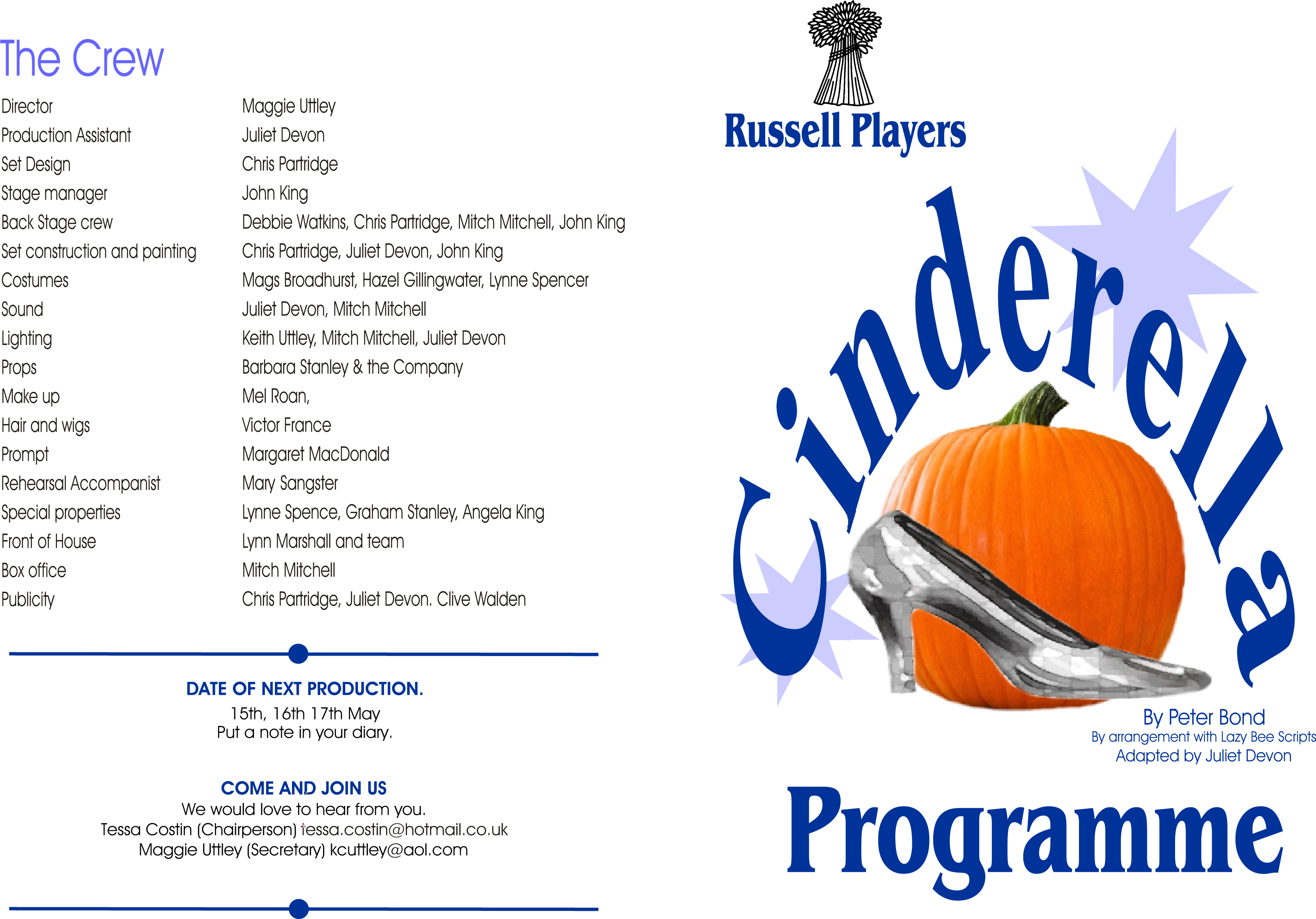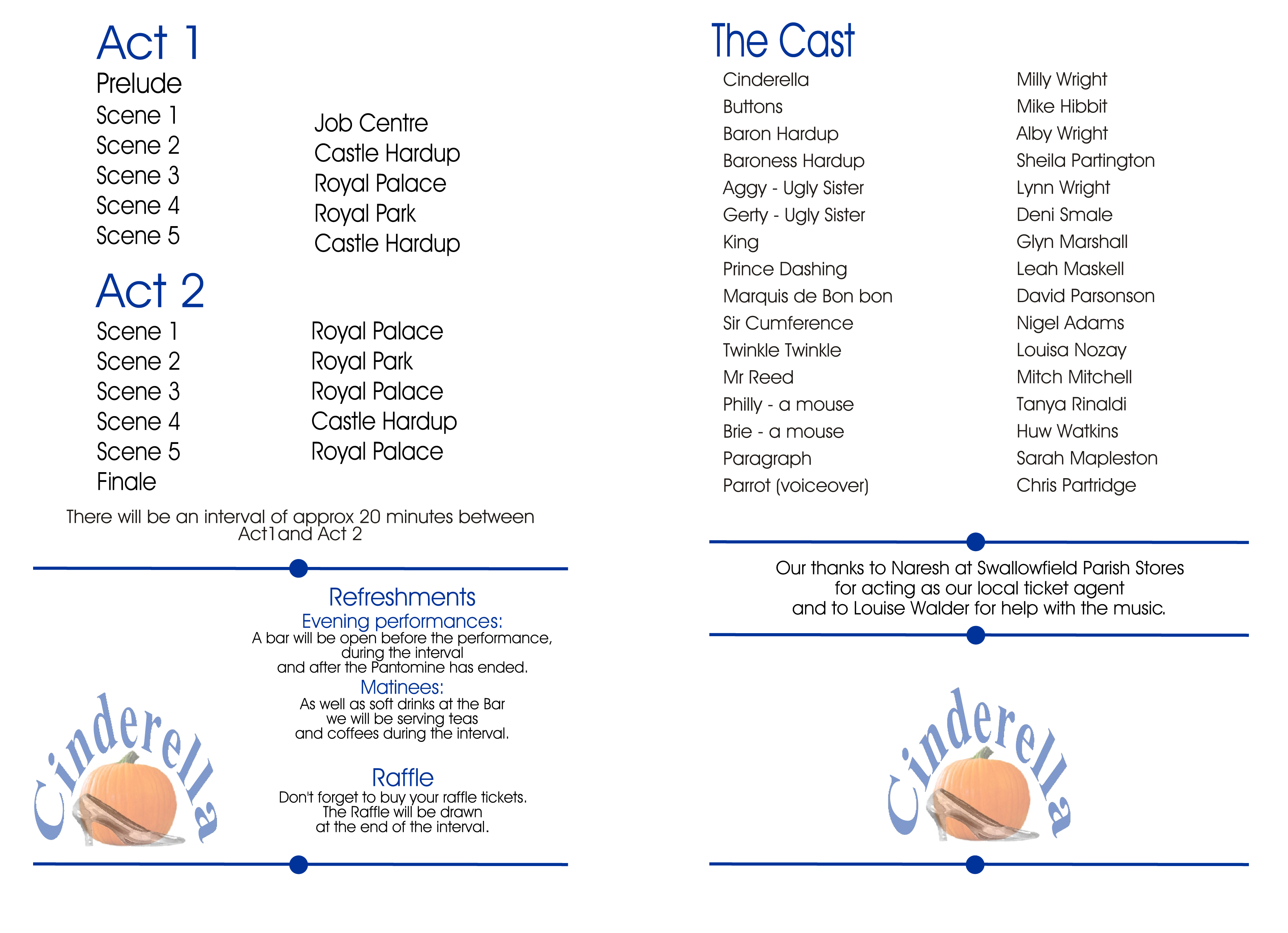 Thank you to those of you who attended our pantomime Cinderella. We were delighted to receive such positive comments and this review from Duncan Hamilton.
Review of Cinderella performed by the Russell Players.
Take one King desperate to find friends and increase his "Likes" on Facebook, a fitness fanatic Prince obsessed with his Fitbit and how many steps he has taken, add a sassy fairy with attitude, two classic ugly sisters and a hard up Baron. Then mix them all together with those well- loved characters Cinderella and Buttons and you have the perfect recipe for a very entertaining evening of fun and laughter in the Russell Players' latest seasonal offering.
Maggie Uttley's offbeat, but definitely upbeat production of this classic tale of rags to riches bristled with impact and comedic fun. The show kicked off with an exciting opening musical prelude featuring the entire cast before quickly shifting context to the local job centre where we found a bossy Mr Reed (Mitch Mitchell) trying to find suitable positions for the unemployed Bellboy, Buttons (Mike Hibbit) and the quirky Twinkle Twinkle- a Fairy who is more Punk than Puck - played in a style very reminiscent of Toyah Wilcox by Louisa Nozay.
Needless to say, having been placed in Hardup Castle it is not long before this unlikely duo meet the Pilates planking Baroness Hardup, (Sheila Partington) and her horribly horrendous daughters, Gerty and Aggy (Deni Smale and Lynn Wright). This trio of ladies bounded energetically through the show like a triple whirlwind, extravagantly playing their roles to perfection in true traditional panto style, all the time beautifully dressed in extravagant yet elegant and stylish costumes by Mags Broadhurst, Hazel Gillingwater and Lynne Spencer. The hopelessly harassed and horticulturally inclined Hardup (Alby Wright) is, very conveniently, a keen grower of prize pumpkins. This comes in very handy when Twinkle Twinkle (with loads of musical help from the audience and spectacular lighting effects) finally makes her magic work. She eventually sends Cinderella, (the perfectly cast Milly Wright), off to the Ball in a wonderful twinkling Pumpkin coach, manned by her two friends, the two cheeky cheese loving mice, Philly and Brie (Tanya Rinaldi and Huw Watkins) duly transformed into footmen.
Endearingly in this production, before the Ball, Cinderella meets and falls in love with Prince Dashing (a performance by Leah Maskell which really lived up to the name!) who she encounters whilst the Prince is out jogging "incognito" in the Royal Park. He is joined on his run (somewhat reluctantly) by two inept and bumbling courtiers, The Marquis de Bob Bon and Sir Cumference - convincingly played by David Parsonson and Nigel Adams. Incompetence and ineptitude continues to surround the poor old King (Glynn Marshall ) and the Prince as they desperately sought to identify the mysterious lady who left her shoe behind at midnight . The royal servant, Paragraph, ( who was "not quite a Page" but played with aplomb by Sarah Mapleston) glided swan- like through the show –all serenity on the surface but as the chaos continued, frantically paddling underneath ,ushering the King's guests in and out and doing the King's bidding.
As ever, the sets by Chris Partridge were first rate. A Hardup Castle which had seen better days and the most elegant and sumptuous of Royal Palace interiors and a beautiful Royal Park, full of mature trees and beautiful flowers, gave the show real atmosphere and a sense of place. The ambience of the eerie forest was effectively created with subtle blue lighting, torches and provided just the right setting for the ghostly pigeon (voiceover Chris Partridge). The costumes (entirely from the Russell Players' own wardrobe) were top notch and beautifully coordinated with the sets and the hair and makeup was up to the usual high standard of the Russell Players. The sound effects, music and lighting added to pictures created by the set designs.
The script (by Peter Bond and adapted for the Russell Players by Juliet Devon) which raced along at a cracking pace, was very funny, full of clever puns, plays on words and lots of good old fashioned jokes. The penultimate scene where the Prince arrives with the lost slipper for the ladies to try on was particularly memorable, not only for the dialogue but also for the excellent business involving a false leg, the longest multi-coloured lady's stocking you have ever seen and the Prince not knowing a left foot from a right foot-much to the delight of the large and enthusiastic audience!
The show ended with champagne all round to celebrate Cinderella's wedding to Prince Dashing, and a very successful outing for this timeless fairy tale story.
Duncan Hamilton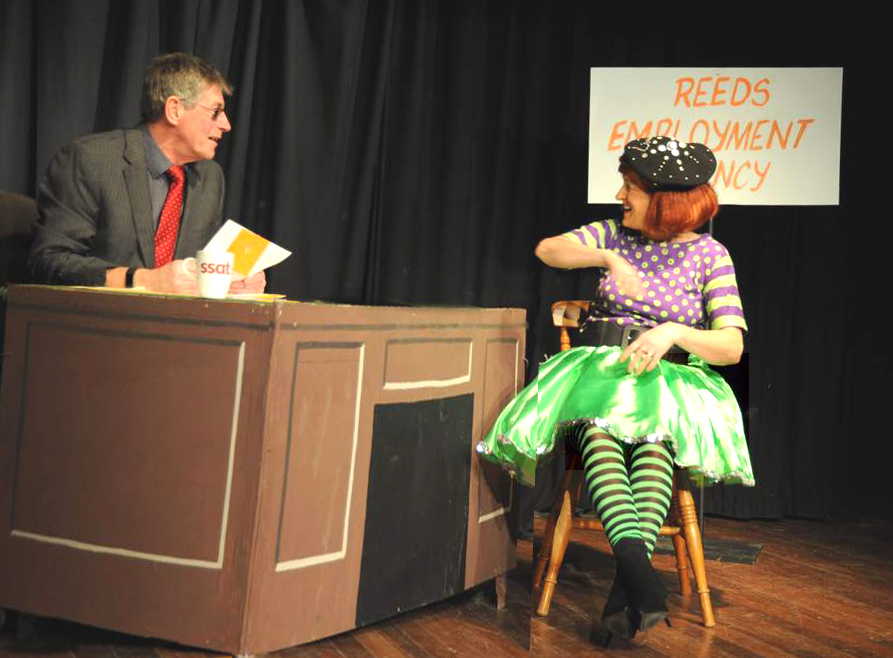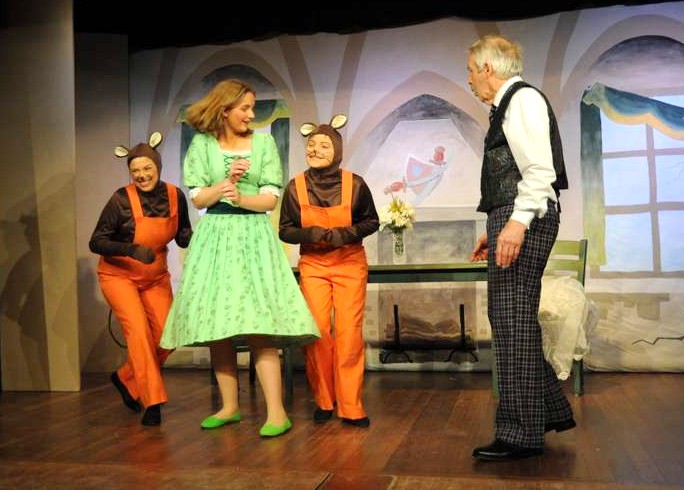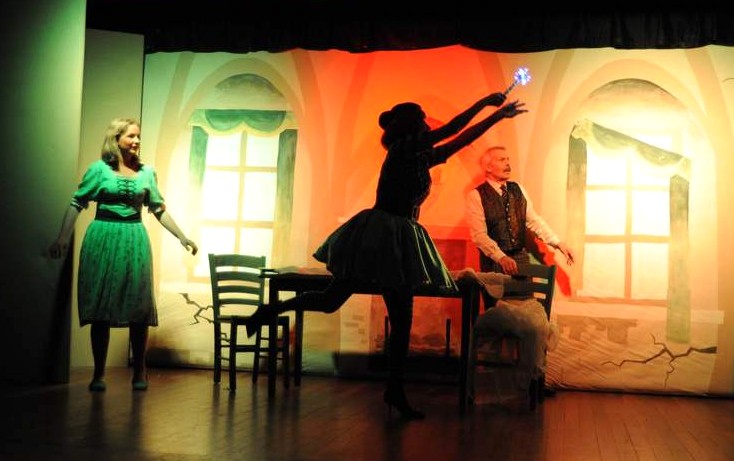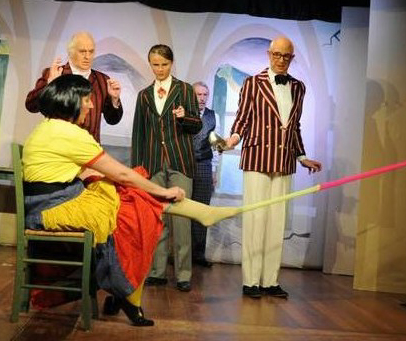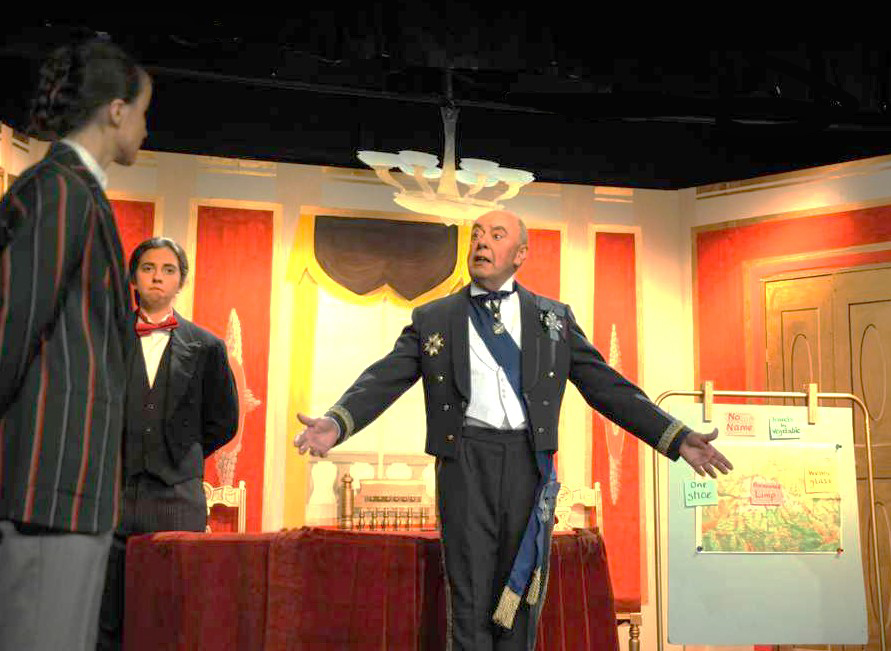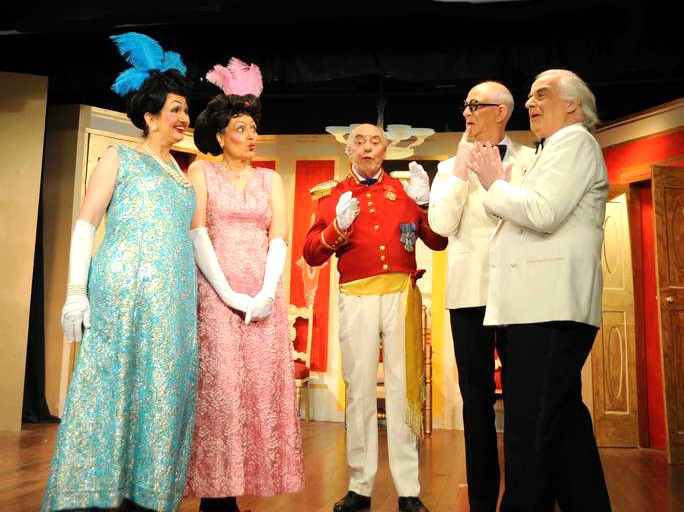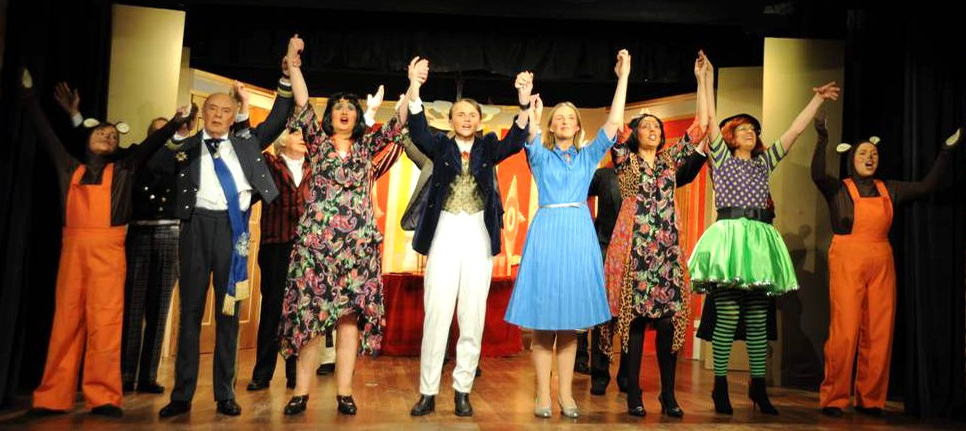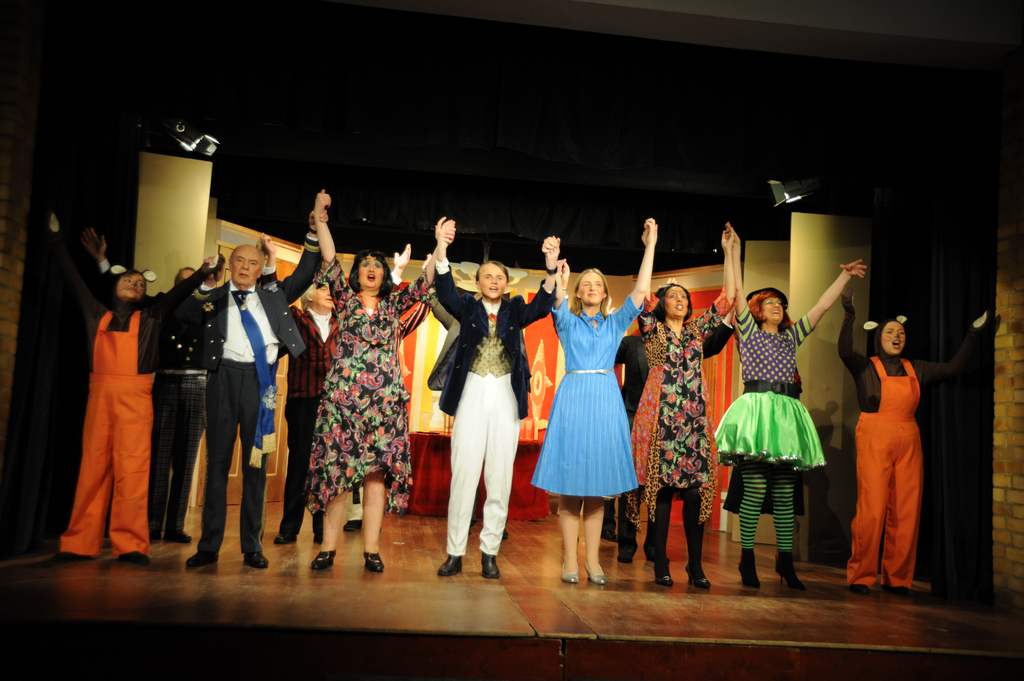 ---