News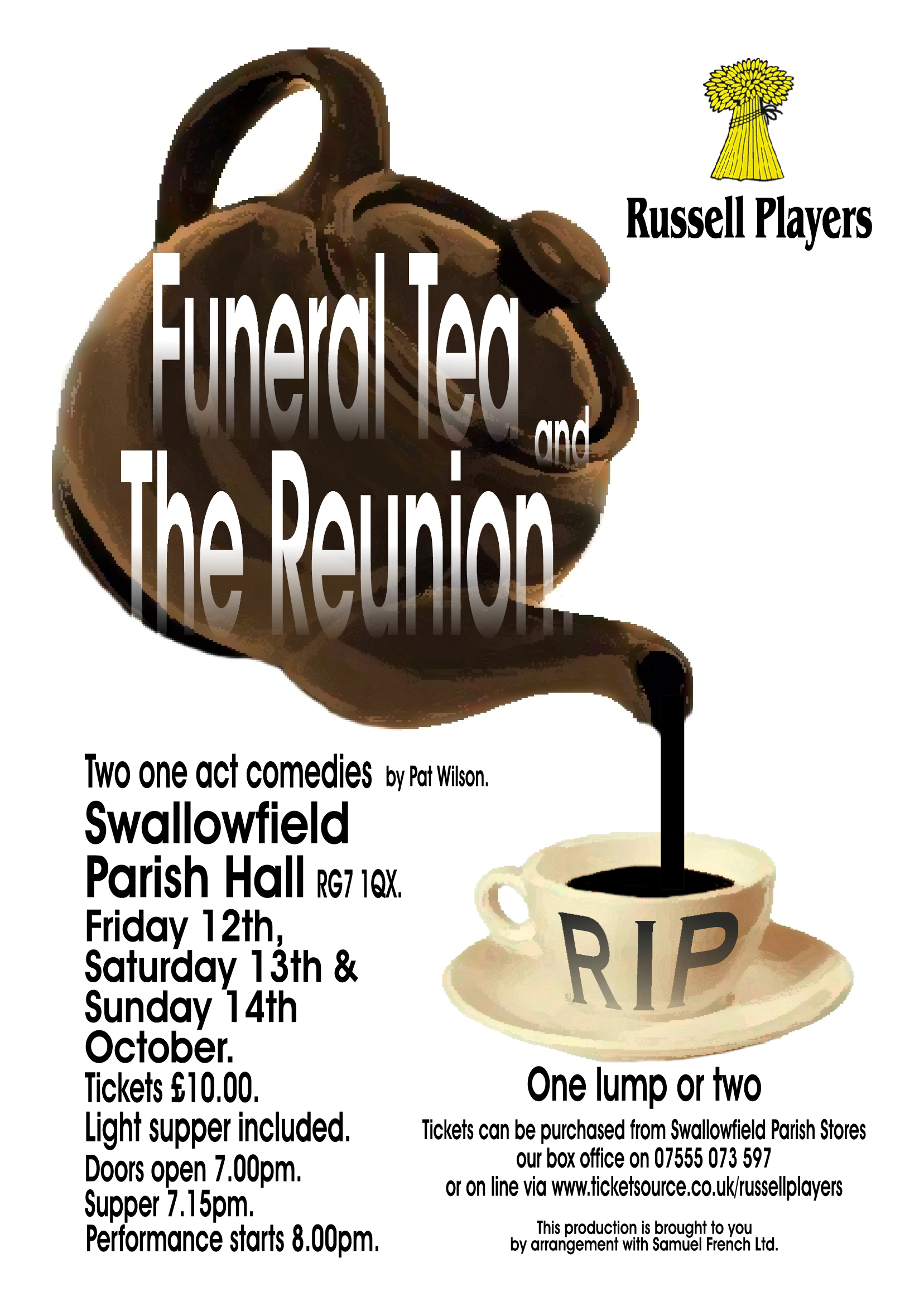 The Russell Players are pleased to announce Mitch Mitchell will be directing their October production.  Funeral Tea and the sequel Reunion are both one act comedy plays written by Pat Wilson.
Pictures from the rehearsals which are progressing well. The cast are looking forward to performing for you.
Here is a taster to whet your appetite.
Funeral Tea.
Following Uncle Jacob's cremation the four attendees arrive for the funeral tea provided by the conscientious caterer, Mrs Ellis.  As the four settle down for a cup of tea it becomes apparent that the urn containing Uncle Jacob's ashes is missing.  When Miss Starkie the deceased's niece suggests the tea tastes odd and they discover the tea jar is locked in the cupboard, they face an unthinkable possibility.
Reunion. (The sequel to Funeral Tea.)
The discovery of a note written by Uncle Jacob insisting attendees of his funeral come to the reading of his Will and partake in the drinking of his home made wine, has the ladies assembled again.  As they preside over what they hope are his ashes, it becomes apparent they will receive some compensation for "reluctantly" providing for him. All they have to do is find the money.  Unfortunately they have difficulty reading his Will, this is partly due to its poor condition and partly due to the potency of Uncle Jacob's wine.  It looks doubtful they will find anything and they begin to wonder if a séance could be the answer.
The performances will be held in Swallowfield Parish Hall on Friday 12th, Saturday 13th and Sunday 14th October. Doors will open at 7.00pm and a light supper will be served. The performance will start at 8.00pm and each play lasts approximately thirty five minutes.
There will be a short interval between the first and second play.
Ticket are priced at £10.00 and are available from our usual outlets, Swallowfield Parish Stores, our Box Office 07555 073 597, or on line via www.ticketsource.co.uk/russellplayers.
So be sure to make a note of at least one of the dates in your diary and we'll look forward to seeing you there for an evening of delightful entertainment.
This production is brought to you by arrangement with Samuel French Ltd.
Juliet Devon
---